First comprehensive account of the seven-decade long journey of Film Society Movement in India, and how it helped Indian cinema come into its own.
Till 1950s, 80 % of the films screened in India were from abroad. Today, only 10 % films shown in India are of foreign origin. This massive transformation is credited to the historic Film Society Movement in India, which became a catalyst to a new film culture as we see it today.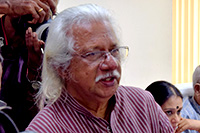 "Cherian faithfully follows the progress of the movement with utmost care … [he] seems to have achieved the impossible."
-- Adoor Gopalakrishnan (From his Foreword)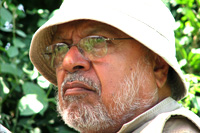 [This] book is a valuable addition…and certainly among the very rare ones written about the Film Society Movement.
-- Shyam Benegal (from his Note inside the book)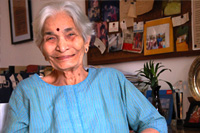 Cherian has meticulously documented evolution of films in India …. The amount of effort that has gone into this work is colossal.
-- Vijaya Mulay, Founding Joint Secretary, FFSI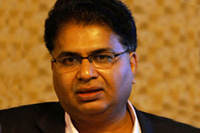 Buy this book online on SAGE Publishing. Please follow below link,
https://in.sagepub.com/en-in/sas/india%E2%80%99s-film-society-movement/book253896
Los Angeles | London | New Delhi | Singapore | Washington DC | Melbourne
Review in Newspaper
The Hindu - A window to the world - VK Cherian on the incredible journey of India's Film Society Movement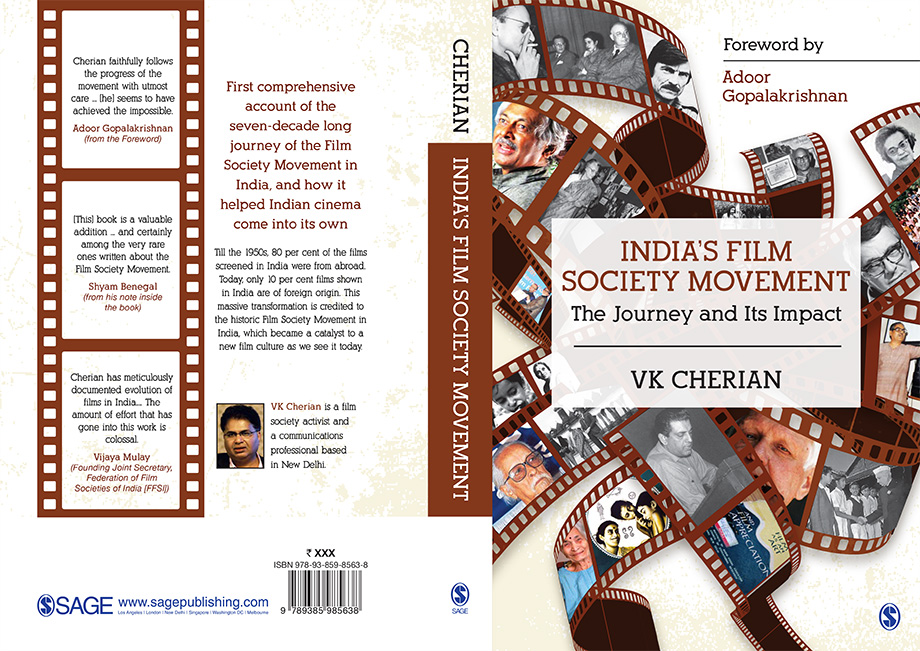 Table of Contents
List of Abbreviations
List of Photographs

Foreword

by

Adoor Gopalakrishnan

A Note

from

Shyam Benegal

Message

from

Gautam Kaul

, President FFSI
Preface
Chapter 1: A Nation Awaits a "Pather Panchali"
Introduction
History of Film Medium-Studies and Appreciation
Calcutta Film Society and Search for New Idiom in Films
Chalachitra Akademi - An Unrealised Dream
Arrival of the Evangelist Marie Seton
Pather Panchali - A Toast of Times for the Country, Defining India's Idiom in Films
Raising film as a new art and defining its aesthetic contours
Chapter 2: The growth Path—From Calcutta Film Society (CFS) to The Federation of Film Societies of India (FFSI)
The Nascence and Revival of CFS
Film Societies in Other Cities
Delhi Film Society
Bhopal's International Film Club
The Lucknow Film Society
The Madras Film Society
The Bombay Film Society
Patna Film Society
The Roorkie Film Society
Agra and Faizabad Film Societies
The Political and Governmental Patronage
The Excitement of the Success of Pather Panchali
Towards a Federation of Film Societies
The Spread of the Movement with the Government's support.
Chapter 3: Visionaries of the Film Society Movement and the new film culture.
Satyajit Ray
Indira Gandhi
Marie Seton
Chidananda Das Gupta
Vijaya Mulay
Khwaja Ahmad Abbas
Ammu Swaminadhan
Anil Srivastava
P K Nair
Professor Satish Bahadur
Jean Bhownagary
Chapter 4: The Networks of Films and Film Buffs
Films as An Art and Its Appreciation
Sourcing Good Films - Pre FSSI and NFAI days
The Central Film Library to NFAI
Entry of Eastern Bloc and others—Non English Films
FTII and FFC Films Make an Entry
Creation of Alternate Network of Film Screening
Organising the Right Audience
Film Appreciation as a Class Act
Chapter 5: The Driving Forces behind the Film Societies Movement
Who Were The Film Society Members? A personal account
How did They Begin It?
A New Nation's Yearning for A Place under The Sun in films
The Political Patronage
The Academic, Artistic Interventions
The University Film Council of UGC and FTII-NFAI Summer Residency
Uncensored Films
Extension of Other Movements—Literary, Library and Leftist
Chapter 6: The Great Fall and Resurgence through digital mode
Chitralekha — The Best Experiment of the Film Society Movement fails
The Emergence of National TV, Video Libraries, Satellite TV and fall of Eastern bloc
Film Society Movement at Crossroads
The Format Changes — Video, DVD and Internet
Advent of Internet
Enter the Digital Mode
Film Societies Enters Digital Era
Regional Response to Crisis
Chapter 7: The Star Film Societies and the Survivors
The Calcutta Film Society
Cine Central, Calcutta
Cine Club of Calcutta
The Delhi Film Society
Film Forum—Bombay
Prabhat Chitra Mandal, Mumbai
Suchitra Film Society—Bangalore
Chitralekha Film Society—Thiruvananthapuram
Chalachithra Film Society, Thiruvananthapuram
Aswani Film Society—Kozhikode
The Madras Film Society, Chennai
International Cine Appreciation Foundation, Chennai
Chapter 8: The Policy Shift and Waning Political Patronage
Policy Paralysis
FTII, NFDC, NFAI, Identity Crisis
Policy Initiatives by State Governments
Waning Political Patronage
Government as a Cheer Leader for Box Office Films
Chapter 9: Towards a New Film Culture — from Crass to Class!
Cinema from an Uncultured to a Classic Act
Margi Impregnating The Desi
Positioning of the Film Society Movement
Not "Organized But Widespread"
FFSI's Makeover Plans
Focus on State Units, Universities
What Filmmakers say about FSM
Indian Films and Film Society Movement in Transition
Annexures:
(Chapter 1) Genesis of Indian films.
(Chapter 3) The Memorandum of Association of FFSI
List of FFSI Presidents from 1959-2015